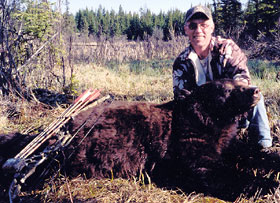 Allan Tew, owner/outfitter and his wife Denise, of Chilanko Forks Outfitters, would like to invite you to join them in the beautiful Cariboo-Chilcotin area of British Columbia for your next hunting adventure.
(Right) Allan Tew: 19 8/16 Pope & Young black bear
There is beautiful scenery, experienced guides and great opportunities hunting black bear, moose, mule deer, cougar, mountain goat and wolf. We cater to your needs, whether you are a bowhunter, black powder or rifle hunter.
The main camp consists of rustic log cabins for hunters, clean and cosy. Spike camps are cabins or wall tents. There will be lots of good food prepared by a professional cook; and great conversation.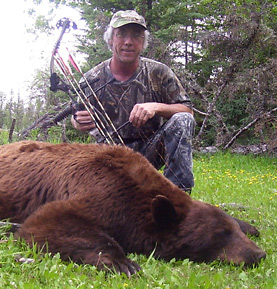 There are also opportunities to hunt grouse, geese and ducks in the area.
(Left) Allan Tew: Black bear, June 2010
Allan and Denise are both avid hunters and enjoy the outdoors. Allan is an official Pope and Young measurer and has successfully harvested many Pope and Young trophies. During the off season they operate a successful taxidermy business, Knife Creek Taxidermy.